RED, WHITE AND GREEN
The Jonas Brothers – (from left) Kevin, Joe and Nick – can't wait to celebrate Christmas this year at their new Dallas home. "We're huuuge Christmas fans," says Kevin (with dad Kevin Sr., mom Denise, 8-year-old brother Frankie and Nick's dog Elvis in an L.A. studio). One of their treasured traditions? Helping Mom with her cookie-making, which is a "five-day event."
THE SHOW MUST GO ON
When it comes to his favorite Christmas tree ornament, Nick, 16, looks to his past as a theater kid. "I love the ones I have from when I was in (a Broadway production of) A Christmas Carol, especially the Ghost of Christmas Past. Those are good memories for me," he says.
HEAR HIM ROAR
The Lion King rules for 19-year-old Joe. "Ever since I was little, that was the one I couldn't wait to put on the tree every year," he explains. Another tradition that has stuck in the Jonas household: wearing their pajamas inside out on Christmas morning. "We think if we wear them inside out, then it will snow," says Joe.
'BABY' BLUE
Decorating the Jonas family tree is serious business. "It's a huge ordeal in our family to wrap the Christmas lights around the tree properly. My dad is kind of, you know, very, very particular," says Kevin, 21. And for the oldest JoBro, his tree accessory of choice is "the Baby Boy ornament. It was one of my first."
FEELING 'GOOFY'
"I made this one in school," says 8-year-old Frankie – also known as the Bonus Jonas – of his handcrafted ornament. "But I love the Goofy one," which happens to be Dad's favorite.
'TIS THEIR SEASON
"It's the best ever," says Kevin of the holiday season. "Getting together, dressing up, being festive, dancing to Christmas music – it's the best. Talking about it, I'm getting super excited!"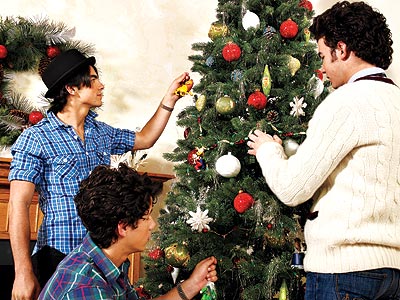 (Quelle:
People Magazin
)
Admin






---
Befugnisse in diesem Forum
Sie können in diesem Forum
nicht
antworten