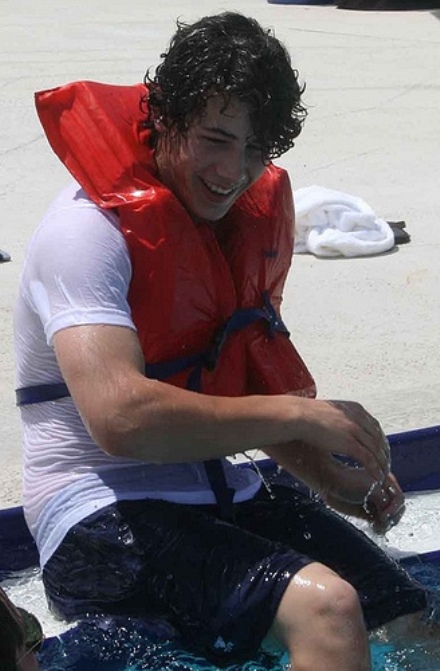 Excerpt from Jonas Brothers' new interview with Times Online: Joe and Nick giggle a lot together. They are light and funny. Joe says: 'We don't just sit in our hotel room and imagine what something is like. We are teenagers. We love to explore the city. We love to have fun. And we do get along well. The Kings of Leon said recently, they are brothers too, it's hard to be a rock star when your band mates know everything about you. And that's what it's like.'
Joe tells me he'd love to meet Prince, and has met Elvis Costello. 'And I would love to meet Mick Jagger. A lot of what I do on stage is Mick Jagger-inspired. I love the way he performs and how he dances.' You wonder about this.
Joe Jonas, purity-ring wearer, wanting to know what put the Jaggerness in Jagger. Should I tell him it was lots of sex? It seems I don't have to. 'Can I come with you to meet Leona Lewis? Will you tell her I love her? I've been watching her video. She's gorgeous.'
Nick rolls his eyes: 'She's one of many for him. He's got quite a few.' Joe says: 'Natalie Portman.' I can almost feel him licking his lips. 'Emma Watson,' he says louder. 'Cheryl Cole. I like a lot of people.'
When they go back to LA they will start to record their TV show. Originally they trained in martial arts and were meant to be special agents. 'But that's changed. It's now the concept of us being in this band. It's an exaggerated version of who we are as people,' says Nick. 'Kevin's character is kind of more air-heady than he is in real life.' Joe adds: 'And Nick's character is over-the-top serious.' Joe seems to be Joe but allowed to be funny.
It turns out that the boys often stay up late, talking about girls and business in equal amounts. Nick and Joe share a room. So, do they have an ideal girl in mind?
Nick says: 'Obviously, understanding the schedule is really important, and being good to the rest of the family and to my mum, because she is the first woman in all of our lives.' Joe says: 'I think also somebody that understands you won't be around a lot and somebody that makes you happy when you talk on the phone.
You want to be happy.' Kevin adds: 'For me it's someone who wears nice clothes and can put themselves together. Even if she is going to the beach she might put a flower in her hair. She puts herself together before she gets out the door.'
Do you ever think there's going to be a time when you stop this to marry? Nick says: 'We talk about this a lot, even though I'm only 16. Marriage is something that's going to happen, but not in the near future. Music is important, but family has to be the most important. I think we would take a little while off if we would start a family. When Joe and I lie in our bed and we can't fall asleep because of all the time changes, that's exactly the kind of thing we talk about.'
Admin






---
Befugnisse in diesem Forum
Sie können in diesem Forum
nicht
antworten